You are here:
Awatapu College, Palmerston North
by Dianne Wilson and Craig Biddick, Te Kauhua co-facilitators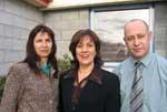 Dianne Wilson, Jane Horton and Craig Biddick
In striving to reach the goals and aspirations of Te Kauhua at Awatapu College, a six-point strategic plan was developed.
The six points are:
to reduce stand down and suspension rates for Māori students
to improve the learning outcomes for Māori students
to maximise student retention at senior levels
to increase participation by Māori students in academic courses
to improve transition from intermediate to high school
to foster a greater sense of whanaungatanga within the school community.
Term 4, 2004 began with research into the barriers to a positive transition from intermediate to secondary school. We based our strategies in this area on the Ministry of Education publication showing the research results of a study on transition processes undertaken by Waikato University. It highlighted key areas of concern that we were able to apply to our own community. We collected data from a variety of stakeholders and the key findings similar to those highlighted in the Waikato University report.
The data collected from the year 9, 2004 cohort indicated that there continued to be a need to improve relationships between students and their peers, as well as between staff and students. The data collected from staff confirmed the importance of relational trust in better student outcomes as they entered year 9. The question was "How will we respond to this identified need?"
Many of the primary and intermediate schools within our city are involved with the 'Virtues/Horomata Project' and the college decided to implement this programme thus confirming the experiences and reinforcing the knowledge that a large number of students in the cohort already possessed.
The target groups were year 9 and 10 students, although other year groups were exposed to the 'Virtues/Horomata Project'. Students with more challenging behaviours were also receiving reinforcement from 'Te Kete me Te Korowai', a similar resource with a more direct Māori dimension.
All staff engaged in professional development at the beginning of the school year reached a consensus about which horomata (virtue) would be developed and implemented. Charts were displayed throughout the college, student logbooks were updated to include all the horomata, and the behaviour management plan upgraded to include a horomata for each student to improve. Various departments have strategies to develop the horomata in their own particular setting. Thus the horomata is reinforced across multiple environments.
The major task remaining at this stage of the Te Kauhua project is to evaluate the impact of the Virtues/ Horomata programme on the achievement and development of Māori students.
There are many ways we are attempting to answer this question. Firstly, if we ask the students to explain what horomata means they are able to reply. They are beginning to assimilate the horomata into their vocabulary and interactions with their peers and staff. In doing so they are also able to evaluate which horomata/virtues they consider need improving in their own lives. Secondly, in conjunction with Dr Shane Harvey, Clinical Psychologist, Massey University, we have developed a tool to measure specific horomata through a questionnaire completed by the students. The first time this questionnaire gathered baseline data and it will be administered again at the end of the year to measure change. Thirdly, we will analyse our stand-down and suspension rates and compare these with rates from the previous year by term, gender, ethnicity and year group.
The results so far indicate that there has been a difference. Anecdotal information suggests that the staff recognise that this year 9 cohort is 'different' from previous years. Their behaviour is more manageable and their 'offending' less than previous years.
To celebrate and affirm the students' commitment to providing a safe environment for all, we took the year 9 cohort out for the morning. Their standard of behaviour and uniform, and their enthusiasm was mentioned and appreciated by all staff involved.
We continue to have our more severe and challenging behaviours to work on, but we now have a common framework of expectation and understand the importance of spoken communication in promoting change. We are now enjoying a shared value system that is empowering and promotes real individual development.
No reira
Ki te hoe
This is a list of the professional reading recommended for schools participating in 'Te Kauhua' Phase 2.