You are here:
Henderson Intermediate School, Auckland
by Clayton Smith, Te Kauhua facilitator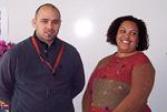 Clayton Smith and Marian Shand
Our staff has undertaken many professional development exercises during our time on Te Kauhua . I am going to share some of our successes during this journey.
We began Te Kauhua at the beginning of 2004 and immediately started looking at teacher/student relationships and at the expectations placed on Māori students by their teachers. The 'Te Mana Kōrero' series was used as the initial resource.
A development from this initial stage was a schoolwide noho-marae with the aim of:
developing and fostering relationships between the teacher and student
utilising Māori students' skills and knowledge of tikanga me te reo Māori to support peers and teachers.
I hope this school-based noho marae will happen bi-annually so that all our students will have the opportunity to be a part of this experience.
We also had an in-depth look at teaching and learning. Learning styles, power sharing, co-construction, cooperative learning, conferencing and student-led activities were all part of this process. The most pleasing aspect of this part of the journey for us was the decrease in stand-downs and suspensions of not only Māori students, but all students. This in part can be put down to the improved relationships created between teachers and students and the efforts staff had made to address these.
As the newly appointed facilitator I looked at some of the academic data at our school. Literacy was seen as a definite concern for our Māori students, and reading in particular. This became our major academic focus for 2005 and the topic of my action research.
With the assistance of the West Auckland Resource Teachers of Learning and Behaviour (RTLBs) and RTLB Māori, data was collected and analysed. As a result, all syndicates within the school have developed different reading programmes and teaching strategies. Initial data has been collected from students and their progress is being tracked. The staff will then evaluate the programmes and strategies that have worked best to improve Māori students' reading ability, and introduce them schoolwide.
Another part of my action research cycle was to provide professional development in action research. The aim was to improve teacher practice through strengthening professional relationships (critical friends) and reflective practice. All home room teachers in each syndicate group are now conducting their own action research on their individual reading programme and are presenting their findings at staff meetings.
I could not complete my story without mentioning the challenge of involving our Māori parents and local community. As part of our regular Te Kauhua hui the speakers from other schools have provided us with so many fantastic ideas and given us the enthusiasm to address the challenge.
Our first three Māori whānau hui at school had a mediocre attendance with the same whānau attending all three. Our most recent hui included kai and a kapahaka performance. The hui was started formally with a brief whakatau and then the focus was on informal discussions (relationship building) with Māori staff, the principal, the RTLB Māori, the new kapahaka tutor, and facilitators. The discussion starters were:
What would parents like the school to assist with in the transition to high school?
What do the parents of year 7 or 8 students perceive as the positive and negative aspects of our school?
What have we done well/not so well for their children during their time at our school?
The discussions were varied, but the feedback from this hui was that it was very successful, and that the momentum gained from it needs to be maintained.
The school's focus now is on sustainability and seeing that all the hard work put in through Te Kauhua continues and becomes part of the culture of the school.
I have been part of Te Kauhua as both a teacher and facilitator and have grown in so many ways during this journey. As a teacher of Māori students I have seen the positive impact that can be made on our students through changes in pedagogy. The involvement and influence of the entire Te Kauhua whānau is inspirational and it has been an extremely worthwhile journey that I feel privileged to have been a part of.
This is a list of the professional reading recommended for schools participating in 'Te Kauhua' Phase 2.