You are here:
Kaipara College, Henderson
by Benita Tahuri, Te Kauhua facilitator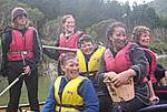 Staff learn about the awa
'Te Kauhua' for us here at Kaipara has been an exciting, fun, and at times challenging journey. The two parts of our journey at Kaipara have been:
teacher practice
working with, and engaging as a school with our Māori whānau and community.
In this article I will briefly share some of the issues around school engagement with the community. We feel that engagement has always been viewed from a school perspective. This perspective focuses on the belief that the whānau or Māori community do not engage with us as a school, despite our apparent best efforts. However when we examined how we as a school engage with our Māori whānau we found it was often a self-serving, or a box-ticking exercise that merely served ministerial obligations around consultation even if this was not the original intention.
At Kaipara College we are working with our whānau and community to address some of these issues by establishing links with the community and developing better relationships. We have established several initiatives within the school to support sincere engagement practice with our whānau and community. A wananga held this year was one small part of the whole process for 'Te Kauhua' in our school and community.
Earlier this year, we visited Puatahi marae (the northern most marae here in the South Kaipara), for the first time as a whole school. There were several objectives for the visit:
To provide opportunities for staff and whānau to develop better relationships.
To learn about our local history.
To workshop different values and understandings.
Here are some of the comments made by teachers in the review process:
"This helped me to clarify what is important to me, and to understand what is important to my students and colleagues."
"It's time to focus on local history and culture of our Māori students."
"When I looked at that tipuna on the wall (in the whare), I felt like he was challenging me to look after his mokopuna, and I had to ask myself whether or not I have been doing the job well or not."
Several of our staff members were deeply moved by the experience and felt a renewed sense of accountability for their interactions with our students and for their teaching practice. There was also acknowledgement from whānau that it has been a "long time coming, but things could only improve if the school continues to make a sincere effort".
43 members of the teaching staff were involved in the Friday workshops and a total of 62 people attended the marae. 29 people stayed overnight and then travelled up the Hoteo River the next day. For over three quarters of our staff it was the first time they had been to one of our local marae.
We would like to acknowledge the generosity and aroha of the whānau at Puatahi marae, and look forward to working on supporting our Māori students here at Kaipara College.
This is a list of the professional reading recommended for schools participating in 'Te Kauhua' Phase 2.